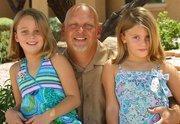 Bounce Around Tucson
We are a family owned and operated business based in Tucson, Arizona.
I moved to Tucson in April of 2003 with my two beautiful daughters. After proudly serving in the US Air Force for 20 years, I retired in December 2007. I bring Integrity and Quality to the local Jumping Castle Industry.
I am very proud to be part of the Tucson community and enjoy bringing fun and entertainment to Tucson families. As a parent of young children, I have created fun and entertaining parties for my girls and felt the next logical step for me was to help you do the same.
Safety is priority ONE for my children and I apply that same priority to your child's party! I look forward to helping you make wounderful memories for the children in your life.
Dale Morse
Copyright 2012, Bounce Around Tucson, LLC(tm) 520-401-2685